on Wed Feb 17, 2016 4:47 pm
My grandfather and grandmother were both Taino Indians in Puerto Rico. This is a tribute to them. My grandmother's first name was Tete which was mentioned in the video below. We were all taught to have open arms to ALL, and our minds continue to practice what we were taught.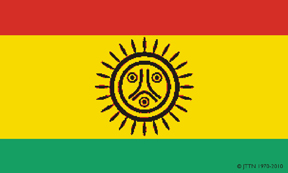 Taino flag
For the Indians Thanksgiving is a Day of Mourning
Happy??? Thanksgiving The Pilgrims of Plymouth, The Original Scalpers Contrary to popular mythology the Pilgrims were no friends to the local Indians. They were engaged in a ruthless war of extermination against their hosts, even as they falsely posed as friends. Just days before the alleged Thanksgiving love-fest, a company of Pilgrims led by Myles Standish actively sought to chop off the head of a local chief. They deliberately caused a rivalry between two friendly Indians, pitting one against the other in an attempt to obtain "better intelligence and make them both more diligent." An 11-foot-high wall was erected around the entire settlement for the purpose of keeping the Indians out. Any Indian who came within the vicinity of the Pilgrim settlement was subject to robbery, enslavement, or even murder. The Pilgrims further advertised their evil intentions and white racial hostility, when they mounted five cannons on a hill around their settlement, constructed a platform for artillery, and then organized their soldiers into four companies-all in preparation for the military destruction of their friends the Indians. Pilgrim Myles Standish eventually got his bloody prize. He went to the Indians, pretended to be a trader, then beheaded an Indian man named Wituwamat. He brought the head to Plymouth, where it was displayed on a wooden spike for many years, according to Gary B. Nash, "as a symbol of white power." Standish had the Indian man's young brother hanged from the rafters for good measure. From that time on, the whites were known to the Indians of Massachusetts by the name "Wotowquenange," which in their tongue meant cutthroats and stabbers.
L PADRE NUESTRO EN TAINO  OUR FATHER IN TAINO Guakia Baba (Our Father), turey toca (is in sky), Guami-ke-ni (Lord of land and water), Guami-caraya-guey (Lord of moon and sun) guarico (come to), guakia (us), tayno-ti (good,tall), bo-matun; (big,generous), busica (give to), guakia (us), aje-cazabi; (tubercles,bread), Juracan-ua (bad spirit no), Maboya-ua (ghost no), Jukiyu-jan; (good spirit yes), Diosa (of God), nabori daca (servant am I), Jan-jan catu (So be it). (indigenous language of Puerto Rico)  (idioma de los indigenas de Puerto Rico) Guakia Baba (Nuestro padre), turey toca (cielo estar), Guami-ke-ni (Seсor (de) tierra (y) agua), Guami-caraya-guey (Seсor (de) luna (y) sol), guarico (ven (a), guakнб (nosotros), tayno-ti (bueno, alto), bo-matъn; (grande, generoso), busicб (da (a), guakiб (nosotros), para yucubia (lluvia, planta), aje-casabi; (boniato, pan), Juracбn-uб (espнritu malo no), Maboya-uб (fantasma no), Jukiyъ-jan; (espнritu bueno sн), Diosб (de Dios), nabori daca (siervo yo), Jan-jan catъ (Asн sea). Recurso: Pre-Historia de Puerto Rico 1493: Dr. Cayetano Coll y Toste
Taino-Arawak........................MUCH more To read at this link:
 jar2.com
THE JATIBONICU TAINO TRIBE
The Jatibonicu Taino Tribal Nation of Borikén

Permissions in this forum:
You
cannot
reply to topics in this forum