on Sun Jan 08, 2017 11:00 am
SUNDAY

Please scroll to view news items added during the day.

NEWS:
Putin ordered hacker campaign to influence US election. "Much blood to be shed: Ukraine to be dealt with under Georgian scenario,".  French military to boost defenses against cyber attacks.  Spicer questions Obama's Russia hacking response.  Pinchuk's transformation, Dodon's signs, and Le Pen's scandalous statements. Russia should be banned from 2018 Winter Olympics, Ukad chairman says. Published new photos of US military equipment, brought to Europe to deter Russia.

WEATHER:
Kyiv, Ukraine
-10c / 14f Hi | RealFeel® -18c / -1f
Light snow

on Sun Jan 08, 2017 11:02 am
Putin ordered hacker campaign to influence US election, - US intelligence community
The Office of the Director of National Intelligence published a declassified version of a highly classified assessment of Russian activities and intentions in recent U.S. elections.
As reported by Censor.NET citing the assessment published on the agency's website, the types of systems Russian actors targeted or compromised were not involved in vote tallying.
The agency assesses the influence campaign aspired to help President-Elect Trump's chances of victory when possible by discrediting Secretary Clinton and publicly contrasting her unfavorably to the president-elect. When it appeared to Moscow that Secretary Clinton was likely to win the presidency the Russian influence campaign focused more on undercutting Secretary Clinton's legitimacy and crippling her presidency from its start, including by impugning the fairness of the election.
According to the assessment, Putin most likely wanted to discredit Secretary Clinton because he has publicly blamed her since 2011 for inciting mass protests against his regime in late 2011 and early 2012, and because he holds a grudge for comments he almost certainly saw as disparaging him.
The U.S. intelligence community believes that in trying to influence the U.S. election, the Kremlin sought to advance its longstanding desire to undermine the U.S.-led liberal democratic order, the promotion of which Putin and other senior Russian leaders view as a threat to Russia and Putin's regime.
As reported, Dec. 6, 2016, U.S. President Barack Obama instructed the U.S. intelligence agencies to make a comprehensive assessment of Russian activities and intentions in recent U.S. elections.
ua.censor.net.ua, In Ukrainian / на українській мові
===========================
SCROLL UP OR DOWN FOR ADDITIONAL ARTICLES!
on Sun Jan 08, 2017 11:06 am
French military to boost defenses against cyber attacks: minister
France is no less vulnerable than the United States to cyber attacks from foreign countries and the French military will boost its resources to defend against them, the French defense minister said on Sunday, according to Reuters.
In an interview with French weekly Le Journal du Dimanche Defense Minister Jean-Yves Le Drian said there is a real risk of cyber attacks on French civil infrastructure such as water, electricity, telecommunications and transport, as well as against French democracy and the media, Reuters reports. U.S. intelligence agencies said in a report released on Friday that Russian President Vladimir Putin had directed a cyber campaign to help Republican Donald Trump's electoral chances by discrediting Democrat Hillary Clinton in the 2016 presidential campaign. Asked whether France was immune from such attacks, Le Drian said "No, of course not, we should not be naive". France will hold presidential elections in April-May and leading conservative challenger Francois Fillon has said he wants to improve relations with Russia and has been praised by Putin. Far-right candidate Marine Le Pen also favors closer relations with Russia.
rench-Russian relations have been strained by Russia's annexation of Ukraine's Crimea in 2014 and over Russia's role in the war in Syria. Outgoing socialist French President Francois Hollande has canceled the sale of warships to Russia, and played a key role in imposing sanctions on Russia over Crimea. Le Drian said that if the U.S. election had indeed been manipulated, it would be an unbearable interference, as targeting a country's electoral means attacking its democratic foundations and its sovereignty.............
unian.info
===========================
SCROLL UP OR DOWN FOR ADDITIONAL ARTICLES!
on Sun Jan 08, 2017 11:11 am
"Much blood to be shed: Ukraine to be dealt with under Georgian scenario," - Russian journalist
Ukraine will be dealt with according to the "Georgian scenario" using the proven concept of the "Kremlin's political judo."
As reported by Censor.NET, special correspondent for the Komsomolskaya Pravda Dmitry Steshin wrote in his blog.
According to the journalist, as far as the Russian presence in the Middle East strongly irritates almost the entire civilized world, the following players may be involved to distract attention from this issue: "The first one is our younger imaginary friends - our non-brotherly people, who will be dealt with under "Georgian scenario", according to my source, and then allowed to submit their peace initiatives and proposals beyond the Minsk process, which will already be dead by that time.
"Much blood - our blood - will be shed. But the territory of the Donetsk and Luhansk regions will be covered with even more blood. This option fits into the proven concept of the "Kremlin ' s political judo": peace initiatives aimed to reach a consensus with the subsequent refusal of the partners to implement them followed by a blow to the head. The next offer will be not so generous and will be refused as well. The further developments are clear," he wrote.
Earlier, Speaker of the Verkhovna Rada of Ukraine Andrii Parubii expressed opinion that Russian President Vladimir Putin should not be underestimated as his actions were global and his aggression was multifaceted. He said the Kremlin would keep funding both the Russian army and the efforts to destabilize Ukraine from the inside.
ua.censor.net.ua , In Ukrainian / на українській мові
===========================
SCROLL UP OR DOWN FOR ADDITIONAL ARTICLES!
on Sun Jan 08, 2017 11:15 am
Russia should be banned from 2018 Winter Olympics, UK AD chairman says
U.K. Anti-Doping (Ukad) Chairman David Kenworthy says Russia should be banned from the 2018 Winter Olympics after a report into state-sponsored doping in the country.
As reported by Censor.NET, Kenworthy told the BBC that the answers presented by figures within British Cycling and Team Sky to the Commons' Culture, Media and Sport Select Committee on anti-doping were "very disappointing".
He said the International Olympic Committee (IOC) had made "a complete muck-up" by not suspending the entire Russian team from the Rio Games last summer.
Kenworthy also waded into the debate surrounding the recent Russian doping scandal, saying he was "absolutely horrified" by last month's damning WADA independent report by Canadian law professor Richard McLaren into state-sponsored cheating.
The report alleged that more than 1,000 Russians benefited from a doping cover-up between 2011 and 2015, and that the London Olympics were "corrupted on an unprecedented scale".
Following an initial report last summer, the IOC refused demands to suspend Russia from the Rio Olympics, but when asked whether the country should now be banned from the next Winter Olympics in 2018, Kenworthy said: "Yes, I think they should. I think they should have been banned from the Olympics in the summer."
"The International Paralympic Committee in my view got it right - they banned Russia. I think the IOC made a complete muck-up of it.
"There was too much politicking going on, that was the problem. People were probably trying to protect vested interests. It's so important that we get this right because we are in danger of losing the confidence of spectators. If they stop going what's the point of having sport. I was lukewarm [about Rio] because I'd seen the Russian thing.
"It was just extraordinary what was done. It's more extraordinary than a James Bond novel, and it just debases all of sport.
"We're still getting denials of any wrongdoing and strange statements about whether it was state-sponsored or not - what we now need to do is get Russia back in the fold, and that is taking some considerable time and effort," Kenworthy said.
ua.censor.net.ua , In Ukrainian / на українській мові
===========================
SCROLL UP OR DOWN FOR ADDITIONAL ARTICLES!
on Sun Jan 08, 2017 11:19 am
Ukrainian interest. Pinchuk's transformation, Dodon's signs, and Le Pen's scandalous statements
Russia has intensified its efforts to force Ukraine to peace in Donbas on Moscow's terms. The official Kyiv should take a closer look at the actions of new president of Moldova Igor Dodon. French presidential candidate Marine Le Pen makes statements that seem alarming for Ukraine and also threaten the integrity and future prospects of the European Union.
Russia seeks to make the most of the time remaining before Donald Trump's inauguration, to convince the next U.S. administration in the need to recognize Ukraine as Moscow's exclusive area of influence. It seems that Russia soberly assesses the prospects of a "big deal" with the 45th U.S. president and tries to identify its interests as clearly as possible. As a result, we see a storm of information attacks by Russian analysts hitting Ukraine as well as "tempting offers" by some of Ukraine's own opinion leaders. Ukrainian oligarch Viktor Pinchuk and foreign affairs expert Vasily Filipchuk have both invited Ukraine, though in different formats, to join the "beautiful future" of the restoration of relations with Russia, which has no place for any obligations that the Kremlin would have to fulfill. Poroshenko's administration through its deputy head Kostyantyn Yeliseiev had to draw some clear "red lines" in a column published by Wall Street Journal which the official Kyiv did not intend to cross. The situation in foreign relations is complicated by a simple fact: no one dares predict with absolute certainty the steps of Donald Trump once he takes over the highest post in the U.S, as the 45th president of this country has absolutely no experience in public service, while the manner of his decision-making is very eccentric. Only after the first 100 days of his work will we be able to see how well this man, flamboyant businessman in the recent past, is mounted in the political machine of the Republican Party. So far, the adjustment of Trump's reaction to the CIA and National Intelligence report on Russian intervention in the presidential campaign shows he has no clear position on many issues. Therefore, the Russian leadership with their hopes for reaching understanding with Trump may be left with nothing -too different are the ways the American and Russian presidents became billionaires. An interesting situation is developing in Moldova, which Igor Dodon, who does not conceal his pro-Russian views, has recently been elected President. One of his first decisions was the dismissal of Defense Minister Anatolii Salaru, one of the advocates of deeper cooperation with NATO within the framework of a neutral state. The next was stripping ex-Romanian President Traian Basescu of Moldovan citizenship. With this step, Dodon seems to have shown his attitude to the prospects of integration of Romania and Moldova..............
Access complete text of the editorial:
 unian.info
In English
===========================
SCROLL UP OR DOWN FOR ADDITIONAL ARTICLES!
on Sun Jan 08, 2017 11:23 am
Published new photos of US military equipment, brought to Europe to deter Russia
In social networks, new spectacular shots arrival at the port of Bremerhaven (Germany) Technology 3rd Armored Brigade Combat Team of the 4th Infantry Division USA.
The photos were published in the social network Twitter.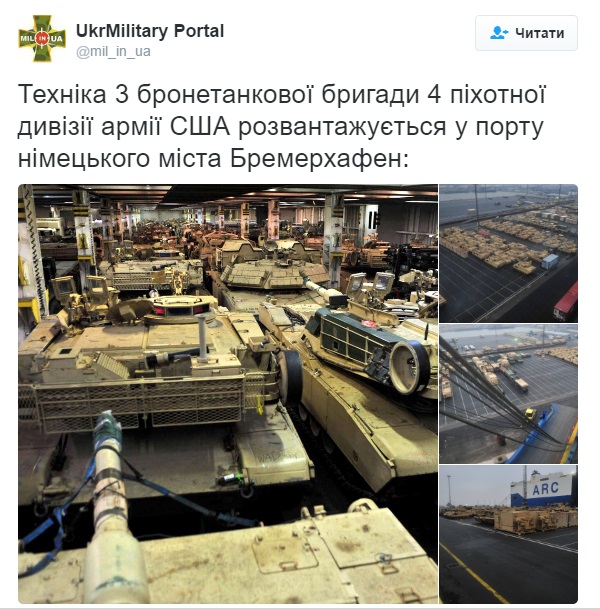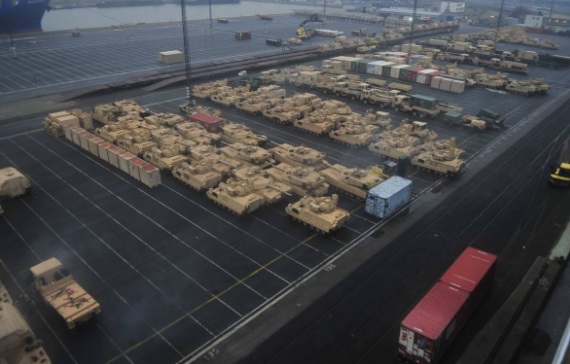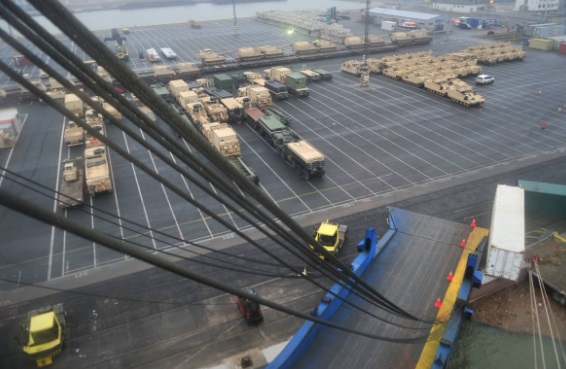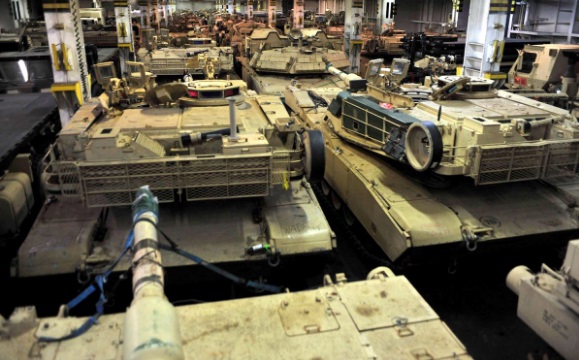 The photo shows about a hundred pieces of military equipment, including tanks, infantry fighting vehicles, tractors, etc.
Together with technology in Europe will be redeployed 3,500 US troops, the first of which has already arrived in Poland.
Moving the 4th Infantry Division is under the operations "determination Atlantic" (Atlantic Resolve), which aims to strengthen the eastern flank of NATO. One of the main goals of the operation are deter possible Russian aggression in the region.
As reported, "Apostrophe" earlier in Russia reacted to the movement of US troops in Europe.
apostrophe.ua , In Ukrainian / на українській мові
===========================
SCROLL UP OR DOWN FOR ADDITIONAL ARTICLES!
on Sun Jan 08, 2017 11:46 am
Filaret announced the launching of a single national church in Ukraine
In Ukraine, will soon be a local church, and the process of its formation has already begun.
This was on Radio Liberty , said the head of the Ukrainian Orthodox Church Kiev Patriarchate Filaret.
"It will be a local church, and the church will be peace. The local church must be. Because it is a state. The process of unification has already begun," - said Filaret.
He also noted that when there will be a local church, and the church will be peace.
"A local church is sure to be one. What will happen? And that is the state. It will state it should be in this country and one of the Orthodox Church, not several Orthodox churches. That's why we believe" - ​​he said.
According to the head of the UOC-KP is unification process has already begun and many faithful of the Moscow Patriarchate in Kyiv passes.
"Why did they go? Because they see that the Kyiv Patriarchate - is actually Ukrainian church that protects the Ukrainian state, the Ukrainian people and Ukrainian interests. So the only church must be" - nahlosyv Filaret.
ukr.obozrevatel.com , In Ukrainian / на українській мові
===========================
SCROLL UP OR DOWN FOR ADDITIONAL ARTICLES!
on Sun Jan 08, 2017 1:26 pm
Girl's body with shrapnel wounds to leg found on Krasnohorivka-Staromykhailivka highway, - Donetsk region police chief. PHOTO
A girl's body with shrapnel wounds to the leg, most likely received as a result of mortar attack on the government-controlled territory of Ukraine committed by the "DPR" militants, was found on the highway in the Donetsk region.
"Nothing is sacred to the "DPR" militants. Even Christmas holidays do not prevent them from killing civilians in the Donbas," he wrote.
According to Abroskin, the Ukrainian soldiers brought the girl's body with shrapnel wounds to the leg to Krasnohorivka this morning. The body was found on the highway between Krasnohorivka and Staromykhailivka on Jan. 5 but it became possible to recover it only now.
"She was probably killed by a mortar strike committed by the "DPR" militants against the government-controlled territory of Ukraine on Jan. 5. The girl was about 25 years old, her identity is being established," Abroskin wrote.
ua.censor.net.ua, In Ukrainian / на українській мові
===========================
SCROLL UP OR DOWN FOR ADDITIONAL ARTICLES!

Permissions in this forum:
You
cannot
reply to topics in this forum