on Sun Jun 11, 2017 10:22 am
SUNDAY

Please scroll to view news items added during the day.

HEADLINES:
The first day visa-free entry into the EU refused four Ukrainians. Russia has named the date when Putin's fate will be decided.  Bursting at the seams: Fears expressed about the collapse of the Russian "empire".  In Odessa dismantled monument to the famous Soviet leaders.  Putin he is not interested, the original forecast announced to voluntarily return Crimea. Rudeness and dirty beaches, tourists from Russia outraged level of service in the occupied Crimea.  Germany's top diplomat hopes for new Ukraine talks after meeting Putin.  The scientist explained Putin would justify its military intervention in Ukraine.

WEATHER:
Kyiv, Ukraine
26c / 78f HI | RealFeel® 26c / 79f
Precipitation 25%
Intervals of clouds and sunshine

on Sun Jun 11, 2017 10:25 am
The first day visa-free: entry into the EU refused four Ukrainians - Ministry of Foreign Affairs
As of the morning of Sunday, June 11, at the intersection of the borders with neighboring EU countries Ukraine only four Ukrainians were denied visa-free regime.
As the Tsenzor.NET about it on the page in Facebook According to the Department of Consular Service of the Ministry of Foreign Affairs of Ukraine.
"Visa-free travel of citizens of Ukraine in the EU -. This fact confirms the reality for thousands of citizens of Ukraine visa-free biometric passports entered in the European Union", - the report says.
As of 10:00, as the Ministry of Foreign Affairs informs the border with Poland crossed the 539 people without visas. At the checkpoint "Shegini" to cross the border have been denied to one Ukrainian who, according to preliminary data, banned from entering the EU.
in Romania bezvizu drove 151 citizen of Ukraine. It is noted that one person had been refused entry due to lack of biometric passports and necessary visas in this case.
In the Hungarian capital Budapest profit 136 Ukrainians, including 35 - without a visa, refusal of entry no.
Ukrainian citizens - passengers of Kiev - Prague, had in possession of biometric passports, border control took place without hindrance.
As of 10:30 the border with Slovakia crossed the 733 people, 33 of them - in the visa-free regime. Two of the Ukrainians was denied entry due to the excess of the previous period of stay in the European Union.
Arrived in Rome two flights - from Lviv and Kiev, where there were 45 Ukrainian citizens with biometric passports, failure is not fixed. Also Ukrainians without visas to come to Paris, Munich, Frankfurt.
"The consuls of Ukraine are working around the clock in all the land crossing points with the EU, in the airport of the capital (and only) the EU situation EU border crossing by citizens of Ukraine is under special control of the Ministry of Foreign Affairs.", - said in a statement.
ua.censor.net.ua , Original in Ukrainian / на українському  
on Sun Jun 11, 2017 10:29 am
Bursting at the seams: Fears expressed about the collapse of the Russian "empire"
Russian state moves to decay and fall apart sooner or later.
This is the opinion leader of the famous rock band "Leningrad" Sergey Fears at the opening of his exhibition "Retrospective Brendrealizma," the Forbes Life .
"Russia is in some way an empire, we are present at the time when it is bursting, but still holding on. But sooner or later it will collapse. Have to try everything we fall. This time will be interesting and beautiful, but challenging in many ways, perhaps tragic, "- said Power.
Recall, according to Ukrainian journalist who works in Russia, Roman Tsimbalyuk , Russia has serious margin and its disintegration into separate states is almost impossible and extremely unlikely.
apostrophe.ua, Original in Ukrainian / на українському
===========================
SCROLL UP OR DOWN FOR ADDITIONAL ARTICLES!
on Sun Jun 11, 2017 10:33 am
In Odessa dismantled monument to the famous Soviet leaders: photo and video
In the town of Podolsk Odessa region dismantled monument to the Soviet revolutionary and member of the "red terror" Gregory Kotovsky.
It said the publication " Dumskaya ."
Note that the city of Podolsk formerly known Kotovs'k.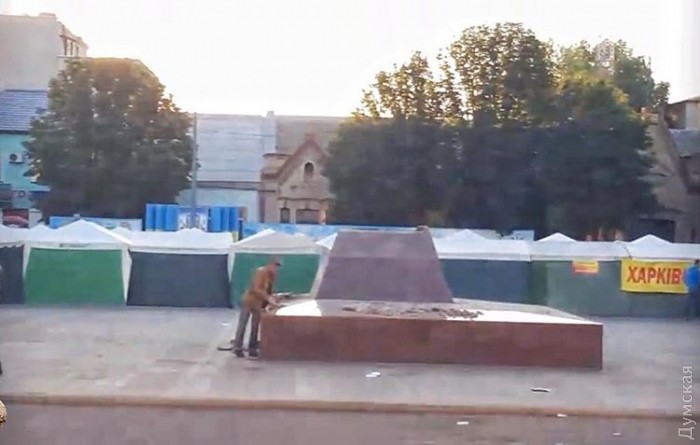 The monument, which stood at the railway station, dismantled the night of 10 June. Work was carried out from 00:00 to 00:40.
"They say this instruction came from the leadership, because in the coming days will come in Podolsk new chairman Odessa Regional State Administration Stepanov. There is a question of the failure of the" Law on discommunization ", - the UNIAN words its source in Podolsk city council.
Also located in Podolsk Kotovskogo mausoleum. Despite the fact that the decision to dismantle the mausoleum and reburial of the remains Kotovskogo local authorities have taken a long time, it still remains unfulfilled.
apostrophe.ua , Original in Ukrainian / на українському
===========================
SCROLL UP OR DOWN FOR ADDITIONAL ARTICLES!
on Sun Jun 11, 2017 11:04 am
Rudeness and dirty beaches, tourists from Russia outraged level of service in the occupied Crimea
Russians who came to relax occupied Yevpatoria, Crimea residents angered attitude towards tourists, lack of service and high prices.
Expressed their displeasure Russian woman in social network "Vkontakte" in the community "Evpatoriya Podslushano and Podsmotreno."
"The boarding house" for breakfast / lunch / dinner choices: chicken or buckwheat, or Pshonka! We paid for three in 10 days 60 thousand. Rubles (27.5 thousand. USD). In some stores habalky thanks, not bitten. Beaches are dirty "- she writes.
In addition, the Russian woman complains that because her husband works in the criminal investigation and it - in prison, they are forbidden to go on holiday abroad, so they chose to rest Crimea, which bitterly regretted more do not intend to visit the peninsula.
"You have many years lived by holidaymakers? We pay taxes for so many years, that you now Russian money rolled? Come to rest - better to sit at home" - she concluded.
apostrophe.ua , Original in Ukrainian / на українському
===========================
SCROLL UP OR DOWN FOR ADDITIONAL ARTICLES!
on Sun Jun 11, 2017 11:11 am
Russia has named the date when Putin's fate will be decided
Russian political analyst Andrei Piontkovsky said that the coming days, June 12-15, may become important dates in the history of modern Russia.
He expressed this opinion in his column on the "apostrophe".
"Bunker" (Putin's inner circle. - "Apostrophe") can not tolerate Putin's third consecutive public humiliation - come on June 15 in a straight line after the resounding success of demonstrations across Russia, "- says the analyst.
In this regard, he said that during scheduled for May 12 events is expected provocations. According to Piontkovsky, it can be violent clashes, deaths of demonstrators protesting the prosecution of leaders of trying to organize a coup, square and seize power. "And Putin will be June 15 this straight line as the leader of the" Russian World ", which suppressed the conspiracy of external and internal enemies of Russia. Here is, I think, plan Putin entourage," - said Piontkovsky. This indicates that most of the ruling elite of Russia is somewhat different plans.
Not accidentally analyst also believes the release date in theaters series about Putin.
"By the way, the demonstration Stone ordered series of great and simple truth as Putin starts at US Showtimes channel is 12 June. Coincidence? I think not," - said Piontkovsky.
apostrophe.ua, Original in Ukrainian / на українському
===========================
SCROLL UP OR DOWN FOR ADDITIONAL ARTICLES!
on Sun Jun 11, 2017 11:13 am
The scientist explained Putin would justify its military intervention in Ukraine
Russian President Vladimir Putin believes that can afford to go into Ukraine with his army, because this country is "stateless". So the Kremlin justify its invasion of neighboring countries.
This is the opinion historian, professor at New York University, Mikhail Yampolsky Explorer . In particular, he recalled that Putin has repeatedly publicly stated that Ukraine, in his opinion, is not a state.
Yampolsky believes that the weakness of the Ukrainian state linked to the presence in Ukraine real elections, real political competition and real parties. Thus, says the historian, "this arrogance towards Ukraine relies heavily on the mind state that would be absolutist (which this is not, because there everything is falling apart) with respect to a country where they do not see strong government. "
"For them it is sufficient excuse to meddle in Ukraine with his army" - summed Yampolsky.
apostrophe.ua , Original in Ukrainian / на українському
===========================
SCROLL UP OR DOWN FOR ADDITIONAL ARTICLES!
on Sun Jun 11, 2017 11:16 am
Putin isn't interested in the original forecast announced to voluntarily return Crimea
In the foreseeable historical perspective of Russia occupied Crimea will return to the Ukraine, but without the pro-Russian population.
This opinion was expressed by the famous Roman Donik volunteer in an interview with "apostrophe".
According to him, soon after dehydration Crimea there will begin a massive outflow of pro-Russian residents to Russia.
"Now there is over fresh water, well they are out run - and we'll see how it all back. And there again admissible water again, everything will be fine. The only difference is that this one hnidnik, nursery" russkomyrovtsev "there somewhere Chukhno" - said Donik.
Speaking about the timing of the return of the peninsula, he said that "in historical scales 50-60 years" - a little.
Volunteers also pointed out that Russian President Vladimir Putin after the occupation of Crimea lost to the peninsula and its people any interest.
"You know well that in the case of the Crimea? What Putin for his death. Crimea it is not interesting. It is, in principle, squeezed as much as possible on the subject. Return" ancient n land ", all this is ... Now it he was not interested. And so these nagging Crimean million to be without water, it is, by and large, do not care, "- said Donik.
At the same time, he stressed that the issue of Crimea Kremlin can be used to justify a full-scale military intervention in Ukraine.
apostrophe.ua , Original in Ukrainian / на українському
===========================
SCROLL UP OR DOWN FOR ADDITIONAL ARTICLES!
on Sun Jun 11, 2017 11:58 am
The Russian Tula detained head of election headquarters Navalny
In the Russian city of Tula coordinator detained Alexei Navalny local headquarters Dmitry Nikolaev.
As described in the "Team Navalny | Tula," the morning of 11 June he came home and found that his car's flat tire.
At this point he was approached five men in civilian clothes and "twisted arms".
Dmitry Nikolaev taken to the police station. What was the reason for the detention was not reported.
June 12 Russian cities will protest against corruption. In Tula meeting agreed.
Alexei Navalny headquarters, which is going to run for president, opened in Tula on May 27
Previously reported that bulk will not take part in the presidential elections in Russia , as has been convicted.
hromadske.ua , Original in Ukrainian / на українському
===========================
SCROLL UP OR DOWN FOR ADDITIONAL ARTICLES!
on Sun Jun 11, 2017 12:21 pm
UIA plans to launch flights from Kyiv to Toronto in the summer of 2018
Airline "Ukraine International Airlines' largest carrier, has plans to launch long-haul flights Kyiv-Toronto in the summer of 2018.
This was announced by company president Yuri Miroshnikov reporters at the airport "Borispol", "Interfax-Ukraine".
According to him, at first, may be seasonal flight.
"I think we will not rush headlong into the maelstrom. Year-round flights Kyiv-Toronto can expect in 2019 "- said Miroshnikov.
Previously, the company repeatedly changed plans to launch indicated voyage.
Earlier it was reported that the Turkish loukoster Pegasus preparing to enter the Ukrainian market .
Recall, March 15, it was announced that the Irish loukoster Ryanair will start flying in autumn with 4 routes from Kyiv to the UK, the Netherlands and Sweden.
hromadske.ua, Original in Ukrainian / на українському
===========================
SCROLL UP OR DOWN FOR ADDITIONAL ARTICLES!

Permissions in this forum:
You
cannot
reply to topics in this forum