on Tue Jun 13, 2017 10:01 am
TUESDAY

Scroll to view news added during the day.

HEADLINES:
Why Trump went to Poland?.  Putin said the US involvement terrorists in Chechnya.  Meeting with Trump Putin: Russia explained what the problem is.  In Russia, died convicted of murder, which severely criticized Putin.  New sanctions against Russia: US Senate came to important agreements.  Ukraine found itself in the top ten countries with the worst roads in the world.

WEATHER:
Kyiv, Ukraine
22c / 72f HI | RealFeel® 23c / 72f
Precipitation 8%
Partly sunny, breezy and pleasant


on Tue Jun 13, 2017 10:05 am
Why Trump went to Poland?
The July visit to Poland Donald Trump could give new impetus to cooperation between Poland and the US, writes the Polish portal Defence24 .
According to the publication, the most promising areas of future cooperation is the military-industrial and energy cooperation, especially in view of strengthening NATO presence in the region and start supplying LNG from the US to Poland.
The publication notes several important points of the visit and the likely prospects for long-term cooperation in these areas.
According to the newspaper, Trump can use his visit to Poland, to confirm commitment to the defense, which could threaten Russia.
Trump may also announce new projects to strengthen military cooperation and military-industrial cooperation with the countries of the region, it says.
In the energy aspect of the United States can discuss their perspectives gas trader. After all, they are increasingly facing the global LNG market, it says.
Poland thanks to the presence of the LNG terminal can be an important element of the new European gas market potential of 70 billion cubic meters of gas per year, which is still dominated by Gazprom, the newspaper writes. Part of this gas is likely to fall into the
Ukraine
. After US Secretary of State Rex Tillerson openly called export gas not 'only source of income, but also an element of political pressure on Russia and help allies in NATO. "
Among other topics discussed doubt during the visit, the publication called North Stream-2, the climate agreement, sanctions against the Russian energy sector, and so on.....................
Access complete text of the editorial:
bbc.com 
===========================
SCROLL UP OR DOWN FOR ADDITIONAL ARTICLES!
on Tue Jun 13, 2017 10:06 am
Meeting with Trump Putin: Russia explained what the problem is
Around the forthcoming meeting between President Vladimir Putin and US President Donald Trump has some difficulty.
In an interview with "apostrophe" said the head of the "Russian Domestic Politics and Political Institutions" Moscow Carnegie Center Andrei Kolesnikov.
"Russia is no recipe building relations with the United States," - said Kolesnikov, adding that Trump is also no prescription vidsutist support through the White House and the relevant media.
"And in this situation do? Friend? Friend possible if push hands. And, apparently, it will be done. Saturating specific content of these relations - is the only way", - predicts analyst. This indicates that the agenda for a possible meeting in the margins of the G20 summit are not formulated by any of the parties.
"But we need concrete results of the meeting, the filling needs to talk. Apparently, and with it some difficulties. In addition, both sides do not understand what they actually want from each other" - said Kolesnikov.
According to the analyst, forecast the failure of a big deal between Putin and Trump zbuvsya, but they should at least establish relations on technical issues. However, progress in this area just does not happen.
apostrophe.ua , Original in Ukrainian / на українському
===========================
SCROLL UP OR DOWN FOR ADDITIONAL ARTICLES!
on Tue Jun 13, 2017 10:07 am
New sanctions against Russia: US Senate came to important agreements
Representatives of both parties in the Senate have agreed on a new package of sanctions against Russia for the Kremlin's interference in US presidential elections.
This writes The Washington Post , citing AP.
On this reported agreement with the Senate Banking Committee and the Committee on Foreign Relations. In particular, the need for the consent of Congress for a possible attempt to weaken the US presidential existing sanctions.
Also expected to expand the current restrictive measures and the introduction of new - against Russian officials implicated in human rights violations and the supply of weapons to the Syrian President Bashar Assad. In addition, it is proposed to introduce sanctions against those Russian citizens who are responsible for cyber attacks in the interests of the Russian government.
It is noted that during this new package of anti-Russian sanctions will vote together with the extension of restrictive measures against Iran.
"The amendment to the main bill on sanctions against Iran includes a significant expansion of sanctions against the Russian government for violating the territorial integrity of
Ukraine
, their brazen cyber attacks and interference in elections and aggression in Syria" - said "Republicans" and "Democrats" of these above committees.
It is expected that the Senate will vote on the extension of sanctions against Iran and Russia on Wednesday, 14 June. In particular, new restrictive measures provided for key sectors of the Russian economy, metallurgy and mining, shipbuilding and railways gaskets.
apostrophe.ua , Original in Ukrainian / на українському
===========================
SCROLL UP OR DOWN FOR ADDITIONAL ARTICLES!
on Tue Jun 13, 2017 10:14 am
In Russia, died convicted of murderer, which severely criticized Putin
In one of the Russian penal colonies died convicted of the murder of journalist Anna Politkovskaya Lom-Ali Haytukayev.
It is reported by "RIA Novosti".
As the "Caucasian Knot" Haytukayev died correctional facility in the Vologda region №5 10 June. Nephew Haytukayeva declared that his cousin was beaten in the colony. By beating lawyers tried unsuccessfully to sue in 2015.
November 3, 2015 Haytukayeva placed in a hospital where he was diagnosed with a disability second group and cirrhosis. According to lawyers, their client the disease could serve as grounds for exemption from punishment.
Lom-Ali Haytukayev was sentenced to life imprisonment.
Anna Politkovskaya was killed in the doorway of his home Oct. 7, 2006. It featured sharp criticism of the political regime in Russia, including Putin and Ramzan Kadyrov.
The organizer of the assassination Court declared Chechen crime boss Lom-Ali Haytukayeva and direct executors - Ibrahim, Rustam Makhmudov and Cabrayıl. Complicit in the murder trial found former police officer Dmitry Pavlyuchenkova. In September last year, "Rosbalt" wrote that because of health Pavlyuchenkova may not survive until the end of his prison term.
apostrophe.ua , Original in Ukrainian / на українському
===========================
SCROLL UP OR DOWN FOR ADDITIONAL ARTICLES!
on Tue Jun 13, 2017 10:17 am
Putin said the US involvement terrorists in Chechnya
Russian President Vladimir Putin accused the US political and financial support of terrorists in Chechnya in the 1990s - early 2000s.
It is noted that this statement the Russian president made a four-part interview with US director Oliver Stone. Thus, the first series of interviews published on the channel Snowtime.
According to Putin, Moscow hoped to support Washington, but the US began to "use these terrorists (in Chechnya - Ed.) To rozkachky political situation in Russia."
He added that the Kremlin is evidence of operational and financial support for Chechen terrorists Vashyntonom, adding that some of them submitted in the United States.
It should be noted that the network has responded to the statement by the US president, recalling that the head of Chechnya, Ramzan Kadyrov and his father fought against the Russians in Chechnya.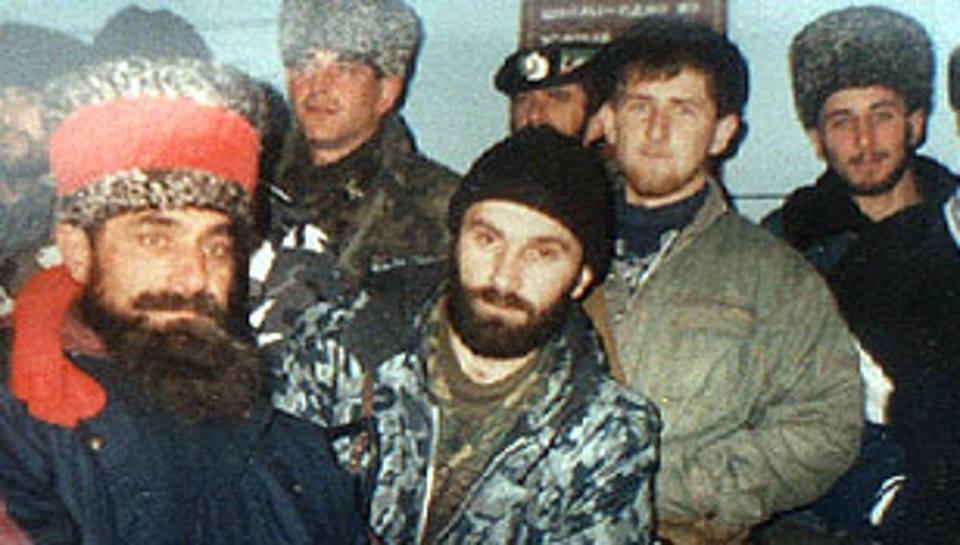 "Putin:" The US supported terrorists in Chechnya. "Second to the right?" - wrote in his Twitter Oleg Panfilov, posting photos.
As reported by "Apostrophe", Putin said that Russia will never interfere in the internal affairs of other countries , which aroused indignation in the network.
apostrophe.ua, Original in Ukrainian / на українському  
===========================
SCROLL UP OR DOWN FOR ADDITIONAL ARTICLES!
on Tue Jun 13, 2017 10:25 am
Trump did not see Putin's intention to improve relations with the US
Pentagon chief James Mattis said that there is no evidence of a desire to have good relations with the US.
It is reported by Reuters .
"At the moment ... I do not see any evidence that Mr Putin wants to have good relations with us. This does not mean that we can not achieve this because we seek common ground," - said Mattis.
"But now he chose rivalry to be a strategic competitor to us," - he added.
In turn, the chairman of the Joint Chiefs of Staff Joseph Dunford said that relations between the US and Russia there is confrontation.
apostrophe.ua, Original in Ukrainian / на українському
===========================
SCROLL UP OR DOWN FOR ADDITIONAL ARTICLES!
on Tue Jun 13, 2017 12:48 pm
Bloomberg learned important details about the scale of Russian intervention in US elections
Cyber ​​attacks on the eve of the US presidential election were more ambitious than the publicly announced. In particular, hackers gained access to a database of almost 39 states - this is two times more than earlier.
This writes agency Bloomberg , citing three people familiar with the process of directly investigating US authorities on Russian intervention in US elections.
So, Illinois investigators found evidence that hackers tried to remove or change the data of voters. Also, hackers could get access to software that is designed to conduct surveys on election day, and at least one state, attackers gained access to the database of campaign finance.
These hacking attempt took place in the summer and autumn of 2016.
It is emphasized that this is so alarmed the Obama administration that the White House went to the unprecedented step - reported it to Moscow to present analogue "red phone". Also in October, the White House contacted the Kremlin and the Russian side offered to provide documented evidence of RF interference and warned that cyber attacks could escalate into a wider conflict.
apostrophe.ua, Original in Ukrainian / на українському
===========================
SCROLL UP OR DOWN FOR ADDITIONAL ARTICLES!
on Tue Jun 13, 2017 10:20 pm
Odesa, busted conversion center with a turnover of 50 million USD funded terrorist "DNR"
The staff of the Ukrainian Security Service (SBU) found in Odessa Conversion Center.
According to Tsenzor.NET referring to the SBU , the organizers helps clients to transfer money into cash and evade taxes. According to preliminary estimates, by envelope center monthly passes more than 50 million UAH. Part of the money was forwarded to finance illegal armed terrorist organization "DNR".
During searches in the offices of the center, places of residence and vehicles defendants seized printing fictitious commercial structures, more than 400 thousand US dollars, payment and accounting records, computer equipment. To seize the accounts of companies that have been used for illicit activities.
Opened criminal proceedings under Art. 258-5 of the Criminal Code (terrorist financing).
censor.net.ua , Original in Russian / На русском
===========================
SCROLL UP OR DOWN FOR ADDITIONAL ARTICLES!

Permissions in this forum:
You
cannot
reply to topics in this forum