on Sun Aug 12, 2018 1:44 pm
The rating of Russian President Vladimir Putin has fallen to a minimum in 2013, when it was ready to vote for less than half of Russians.
This is evidenced by the results of the poll conducted by the Public Opinion Foundation (FGD) on August 4-5.
Only 45% of Russians responded to sociologists who would vote for Putin in the event that the elections were held the next Sunday.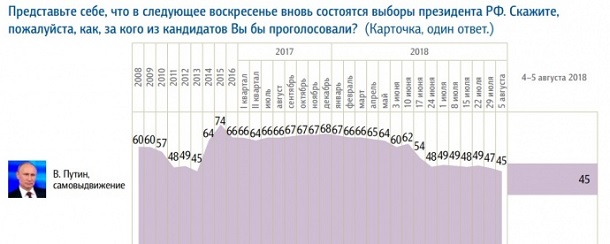 Also, Putin's rating of trust has fallen. On the question "Do you trust or do not trust Putin?" the answer to the "definitely trust" in August was chosen by only 24% of respondents, whereas in March this year they were 43%.
At the same time, 17% of respondents chose the option "Definitely do not trust", whereas from 2015 to May 2018 this figure did not rise above 10%.
In turn, the Russian political migrant Olga Kurnosova predicts large-scale social protests by the Russian Federation through new pension reforms that will cover the country already in September this year.
"Indeed, the social protest is increasing, there are cities where so many people did not go to the protests 10-15 years." I think that by the 20th of August, when the second reading of the pension reform is scheduled, rallies will intensify, until September, when there will be a single day voting - the situation may get worse. The deterioration of the economic situation will intensify the protest wave and the Kremlin is waiting for a hot fall, "she said in a comment to the" Obozrevatel ".
Kurnosova also noted that if Putin had managed to shift responsibility to Medvedev's government, then the pension reform now hit the image of the head of the Kremlin.
apostrophe.ua  In Ukrainian/український

Permissions in this forum:
You
cannot
reply to topics in this forum